PFOA In Fire Fighting Foam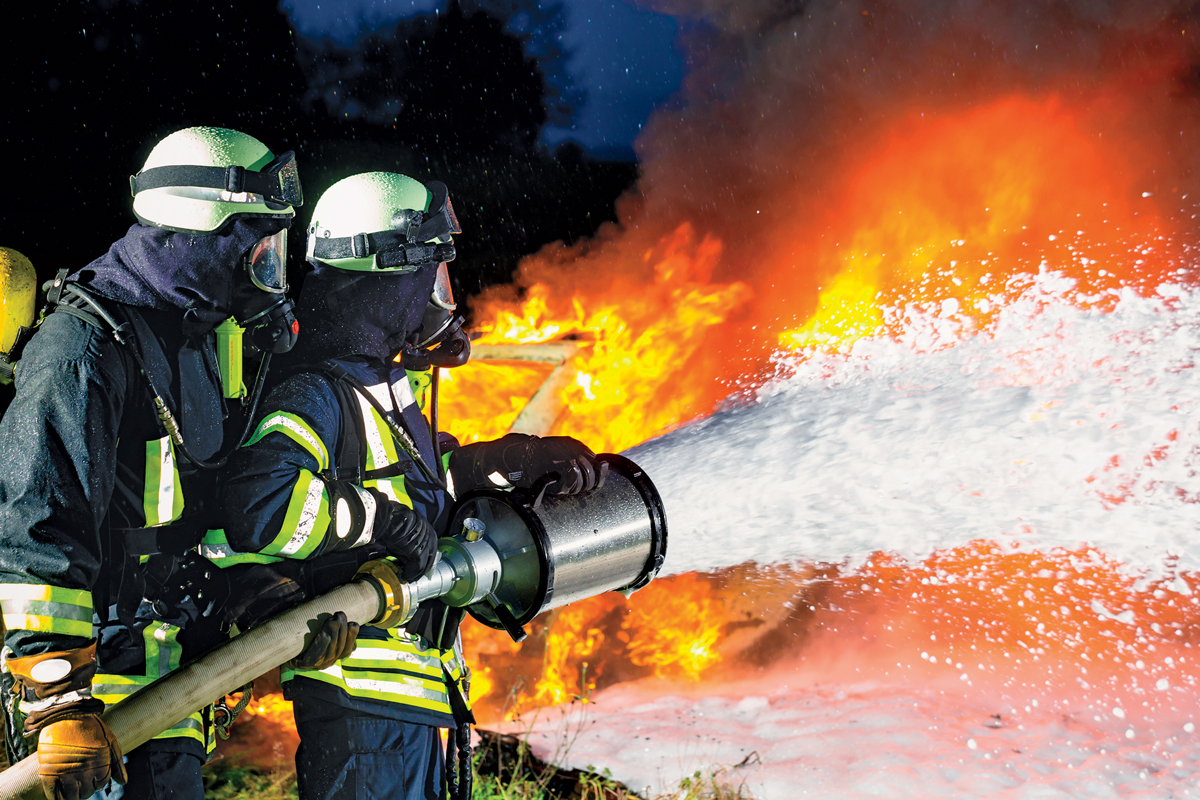 Why is it a problem?
PFOA (perfluorooctanoic acid) and PFOS (perfluorooctane sulfonate) are manmade chemicals that belong to the PFAS (per- and polyfluoroalkylated substances) group that may be found in aqueous film-forming foam (AFFF) which is often found in some fire suppression systems, including portable handheld fire extinguishers. PFAS substances encompass a wide range of chemicals, the human and environmental impacts of which are largely unknown. However, PFOA and PFOS are chemicals that are known to be harmful to humans and the environment and often described as "forever chemicals" due to their persistent nature when released into the environment and slow rate of biodegradation. This means that these forms of PFAS can pose long-term threats to the environment and human health. Like many other types of PFAS, these man-made substances that are used in fire-fighting foams are both bioavailable and bio-accumulative. Meaning that they can be absorbed easily by living organisms and can increase in concentration when in the body. It is possible that PFAS that are discharged on land can contaminate soil or runoff into waterways like streams and rivers, potentially contaminating groundwater and drinking water supplies.
Controls on PFOS & PFOA
Under the Stockholm Convention in May 2009, PFOS and its related substances have been severely restricted. In May 2019, similar restrictions were imposed on PFOA and its related salts and compounds. The use of PFOS is completely banned. However, there are some time-limited exemptions regarding the use of PFOA and its related salts and compounds under the EU Persistent Organic Pollutants (POPs) Regulations 2019/1021. These regulations have been transposed into Irish law by SI No. 146 of 2020. The implementation and enforcement of these EU Regulations in Ireland is overseen by the EPA.
It is expected that there will be further restrictions imposed on other PFAS related compounds. This includes proposals under the EU Chemical Strategy for Sustainability to eliminate all non-essential uses of PFAS which may encompass its use in AFFF. It is recommended by the EPA that industries that use these manmade chemicals consider switching to PFAS free alternatives, known as "fluorine free" foams in the coming years in order to prepare for the pending restrictions.
Under the Statutory Instrument, the current restrictions on AFFF containing PFOA and its related salts at concentrations >0.025mg/kg, and PFOA related compounds at total concentrations >1mg/kg (referred to as "AFFF containing PFOA" in the tables below) are as follows:
From July 4th 2020
All existing stocks of AFFF containing PFOA installed in a premises may only be used for Class B fires.
Use of AFFF containing PFOA is prohibited for training purposes.
Testing of equipment/systems of AFFF containing PFOA is only allowed if releases are contained and can be properly disposed of.
From January 1st 2023
Uses of any AFFF containing PFOA are permitted only where foam release can be contained.
From July 4th 2025
All uses of AFFF containing PFOA are prohibited
If your fire suppression systems, including handheld extinguishers, have AFFF containing PFOA, then the obligations listed below will apply to you:
From July 4th 2020
Notification to the EPA is required if you intend to continue to use AFFF containing PFOA for the permitted purposes.
Any AFFF containing PFOA that are to be discarded must be managed as a waste using a suitably authorised waste contractor. This applies to suppliers and end users.
If the total weight of AFFF containing PFOA contained within the fire suppression systems, including handheld extinguishers exceeds 50kg at a given location, the EPA must be notified of such stocks and reports to the EPA of the continued retention of these foams should be done annually.
Please note: The deadline for receipt of annual report of stocks >50kg of AFFF containing PFOA is the 4th July.
From July 4th 2025
All existing stocks of AFFF containing PFOA must be managed appropriately by a suitably authorised waste management contractor.
Notification made to the EPA of proper disposal/management of stocks of AFFF containing PFOA including proof of appropriate management
For more information on how to report stockpiles of fire-fighting foams containing PFOA and PFOA related substances see the EPA Frequently Asked Questions for annual reporting of PFOA and related substances.
September 2022