ISO 14001:2015 – We can help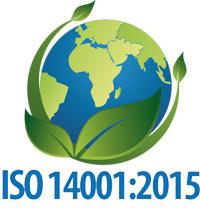 Context
The International Organization for Standardization (ISO) published the revised ISO 14001:2015 environmental management systems (EMS) standard on September 15th 2015, replacing the ISO 14001:2004 version. Businesses have until September 15th 2018 to upgrade to the new standard. The new revision has some significant improvements and changes, designed ultimately with the goal of organisations gaining more value from their EMS and possibly integrating it with their quality management system (QMS) and/or health and safety management system (H&SMS).
What are the changes?
At first glance, the standard has new clause headings and a new structure, but is still based on the 'Plan-Do-Check-Act' structure. The new structure adds a stronger leadership role to the management system and drives integration with the strategic business processes, allowing organizations to reinvigorate their EMS in order to derive real business value.
Some of the more prominent changes to ISO 14001:2015 include:
Leadership
Top management leadership is essential to the success and functioning of the EMS. The standard now addresses EMS responsibilities for top management, including demonstrating EMS leadership and commitment, integrating environmental concerns into strategic business processes, and ensuring the EMS achieves its intended outcomes.
Improvement of Environmental Performance
The standard focuses on enhanced environmental performance. Continual improvement clearly applies to environmental performance, not just the management system. Improvement must be demonstrated with objective evidence.
Integration into Business Management
Integration of EMS requirements into existing business processes is a requirement of the new standard. Many Fortune 500 companies have been doing this for over 20 years, and have found it enhances overall business performance.
Risks and Opportunities
Businesses with certification to the standard are required to take a more strategic approach to planning. Planning now includes identifying 'risks and opportunities' as well as 'other issues' which are driven by the business context, such as the needs and expectations of internal and external stakeholders.
Life Cycle Perspective
Organizations must consider the life cycle of activities, products, and services when determining their environmental aspects and impacts, as well as associated operational controls. Organizations should consider environmental aspects in the supply chain and in transport, customer use, and final disposal – not just manufacturing. [The standard does not require formal lifecycle analyses however.]
How do we get started?
Some organizations with an advanced EMS will find these changes to be achievable, while others may find them challenging. We recommend you begin by comparing existing practices, documents and programs to the new requirements (known as a 'gap analysis'). Having identified gaps, we recommend that you develop a transition plan with the involvement of affected and responsible internal staff. When developing the transition plans, it is important to take a practical and non-bureaucratic approach. It is our experience that companies often over-interpret the requirements of the standard. Consult with your registrar to get agreement on any areas of concern which you might have.
How can we help?
Environet has experience in building an EMS to the new standard as well as guiding organizations through the re-certification process and assisting with implementation of the new changes to the standard. We understand the new requirements and the practical aspects of implementing changes at both operational and corporate levels. Whether you are developing a new EMS or updating your existing EMS to the revised standard, Environet can bring this experience to your organization.
Analyze Gaps and Develop a Transition Plan
Environet can help you to quickly assess existing processes to identify gaps and assist with developing a transition plan, as well as implementing it.
Training
Environet can assist your team throughout the transition process. We can provide training to the new standard, (as well as general environmental awareness training), assist you in demonstrating improved environmental performance and understanding the requirements of the standard, as well as engaging and coaching senior management to get the best value from the transition to the new standard.
Integrating Processes with Business Plans
This revision is an opportunity to integrate multiple management systems. Consider integrating your EMS with other ISO management systems, such as quality and health and safety (ISO 9001 and OSHAS 18001). This is also an opportunity to streamline processes by eliminating bureaucracy and integrating specific EMS requirements into existing core business processes, such as supply chain management, training, transport, R&D, manufacturing, capital expenditure, strategic planning, and others where needed.
Auditing
Environet can conduct internal audits to assess your organization's readiness, incorporate new requirements into audit protocols, and prepare your internal audit team to conduct audits to the new standard, as well as conduct compliance audits to the new standard.
Contact Information:
Michele Hallahan
May 2017